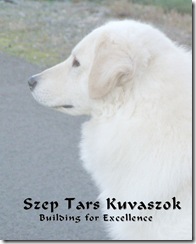 It's amazing to think the first Kuvasz came to Szep Tars over 20 years ago in 1988.  I had been showing and training Golden Retrievers since 1983 but had fallen in love with the Kuvasz when I saw Ch. Santa's Forest Great Bear at a fun match.  In less than a year my first Kuvasz Tuhi became a champion owner handled and helped me to open status in Jr. Handling.  I was hooked.  Soon Vif & Benny came to live with us as well.  Vif, Ch. Szep Tars Vivific Sphinx became the first Champion to carry the Szep Tars Name.  Benny the son of Great Bear came to live with us after his show career.  Sadly we lost Tuhi to an autoimmune disorder, but Vif and Benny lived full lives of 11 and 13 years respectively.  These three Kuvasz hold a special place in our hearts today.
In 1996 the future of Szep Tars started looking up when a new face and a new name came into the picture.  Matthew and I were married in August of 1996, finished college and bought a home.  Matthew was excited about the Kuvasz and our future in the breed together.  Vif and one of our Goldens came to live at the new home to raise and train the future of our Kennel.  Kaela and then Callie came from Szumeria Kuvasz to help make a new beginning for us together.  Kaela otherwise known as Ch. Szumeria's Morning Mist became the #15 Kuvasz in 1999 only being shown for 6 months and finishing her championship that same year.  Callie came to us at the end of 1999 and gave us a great foundation for the future both in the show ring and in the whelping box.  Since then other's have joined the crew adding specialty wins and new personalities to our kennel.  For us the future is truly building.
Our philosophy for today and tomorrow:
Our early dogs taught us a lot about the Kuvasz breed and where we wanted to go with them.  Our philosophy is to Build for Excellence in soundness, type, and temperament.  That means judging each dog / puppy by the standard and not just the competition.  We do not feel that mediocrity is acceptable.  Sometimes that leads to heartbreak but we feel it is the only way to improve the breed.  Like the 4-H pledge we are here to "make the best better".  The best way to do that is to start with great dogs, breed to great dogs, and show only the best of those.  We are very excited with the foundation we are laying.
With quality dogs and several group placements, our future in and out of the show ring looks promising.  We have a limited breeding program which allows us to research each breeding to the fullest, make careful plans, and spend the time with the puppies needed to make sure they have the best chance of being a well rounded adult.  We feel that type, temperament, and soundness must be present in any good dog.  If one of these building blocks is missing a breeding program is unbalanced.  Mentored by top breeders, Challenged by top judges we press on to further knowledge and are never happy with the status quo.  With the training, conditioning, and love our dogs receive you will find that our dogs meet or even surpass the challenges that lay ahead.  Look for our dogs in the show ring, performance trials, in the health clearance reports and in loving homes.