Ch. Szep Tars Bellamori of Rus
(Ch. Szep Tars Pacific Jewel, RN, CGC x Ch. Szep Tars Desert Freeze, RA, CGC, TDI)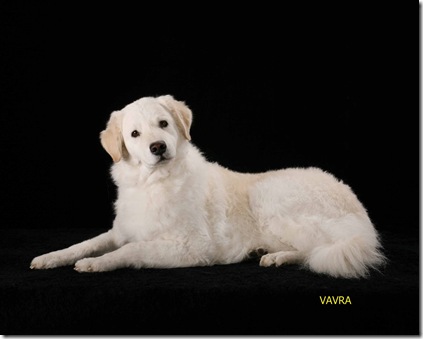 "Bella" 
Bella is about as sweet as they come.  She charmed her way to her championship, winning the judges' hearts with her sweet smile and pretty face.  We have enjoyed taking her out to shows as she is so easy to live with or travel with.  But she happily lives with her family in Everston Wa. where she is the queen of her castle and her family's hearts.
Bella has OFA good hips, elbows normal, patella normal and is DNA tested Clear for PRA.
Szep Tars My Hearts Desiere, RN, CGC
(Ch. Szep Tars Pacific Jewel, RN, CGC x Ch. Szep Tars Desert Freeze, RA, CGC, TDI)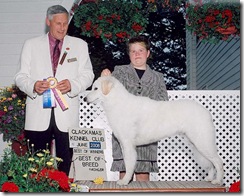 "Emma"
Emma is trained and shown by her owner Jacque.  Jacque started with Emma when she was a Jr. Handler, and now that she has aged out, she still trains & shows Emma in conformation, Rally, obedience, and agility.  Emma was shown in 4-H as well, where She and Jacque qualified for the tough state competition several years running.
Emma has OFA good hips and a thyroid within normal limits.
Ch. Szep Tars Nevada Blue
(Ch. Szumeria's Mythical Image, RN, OD x Telperion Blue Moon)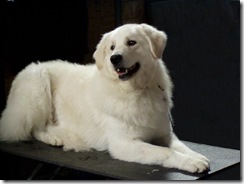 "Sky"
Sky is a larger boy with good bone and great structure.  He loves kids and other animals.  He had a nice show career which included Best of Winners at the 2004 Kuvasz club of America National Weekend.  Unfortunately Sky didn't like to show that much so he was placed with a loving family.
Sky has OFA Good Hips, Normal elbows, and is OFA thyroid normal.
Ch. Szumeria's Surround Sound, CGC
(BIS/BISS Ch. Szumeria's Nala of Silverpick, CGC, COAA, VPA x Szumeria's To Sir with Love)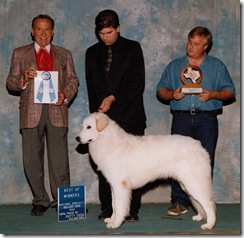 "Dolby"
Dolby is a very sweet boy.  He had an amazing show career wining 4 majors and a Best of breed to finish his championship, including Best of Winners at the 2002 Kuvasz National Specialty show.  After retiring from the show world, he went to live the good life, with a wonderful family who loves him dearly.
Dolby has OFA good hips, Elbows normal, Patellae normal and OFA Thyroid normal.