We have no adults / rescues available at this time.
Our next litter is planned for Summer of 2017.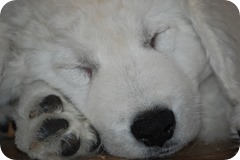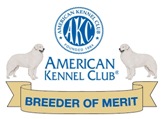 Feel free to e-mail us for more information at Kuvasz@szeptars.com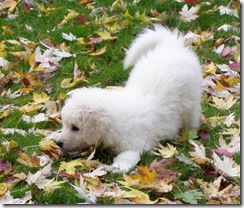 We are a small breeding & show kennel with a focus on quality structure and solid temperaments. We have litters about once a year or two, so it's important to get on our approved list as early as the puppies are usually spoken for by the time they are a few weeks old. Our pups are sold only to approved homes, and come with a written guarantee and lifetime support to help you and your Kuvasz enjoy best of years together. They are raised in our home and socialized with children to help them become stable confident adults.
Our puppies are raised with lots of socialization and using Dr. Carmen Battaglia's "Early Neurological Stimulation" for the best chances at good health and mental soundness. This method uses minor stresses like putting a puppy on a cool towel for 3 seconds once daily from the ages of 3 days old until they are 16 days old. Adding this early stress has shown puppies to have:
1. Improved cardio vascular performance (heart rate)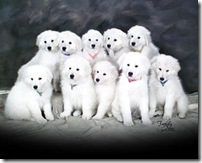 2. Stronger heart beats
3. Stronger adrenal glands
4. More tolerance to stress and
5. Greater resistance to disease
For more information or to check out Dr. Bataglia's site, click here.