"Terra"
CH. Double Ring Force of Nature at Szep Tars, CA, OA, AXJ, NAP, NJP
Co-owned by Breeders Kathy & Chuck Ringering / also bred by Ashley Resner
"Terra" has now finished her Open Agility titles and her Excellent Jumpers title.  She is working on her Excellent jumpers & Master Standard titles while starting her Fast titles.  She continues to blow us away with her athleticism and speed.  Attending the occasional Conformation dog show she continues to work on her Grand Championship as well.
2014 Show News
Although here at Szep Tars we stuck mainly to Agility trials this year we still have some brags to share.  Miss Tempo earned her AKC Grand Championship, her first AKC group placement, and a UKC Reserve Best in Show! She also earned an invite to the Owner Handled series finals as the #3 Kuvasz /#1 Kuvasz Female in the Owner Handled rankings.
Eros not only finished his AKC Championship (Owner handled by Debbie Fulkerson) but he sired a beautiful litter of puppies at Double Ring Kuvasz as well.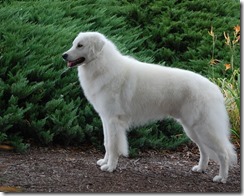 2013 KCA National Specialty show
We are pleased to announce that "Tempo" took Select Bitch and "Csello" took Winners dog at the National under respected, Hungarian breeder judge Jozsef Juhasz.  We are so glad that we were able to be there to cheer on these great kids and their owners.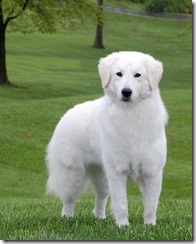 CH. Szep Tars Push the Beat at Autumn Winds ~ Tempo
Owned by Barb & Bob Tatay of Autumn Winds Kuvasz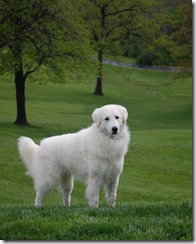 Szep Tars Stradivarius ~ Csello
Owned by Chuck & Kathy of Double Ring Kuvasz
"Tempo"
UKC CH. Szep Tars Push the Beat at Autumn Winds
is now AKC & UKC CH. Szep Tars Push the Beat at Autumn Winds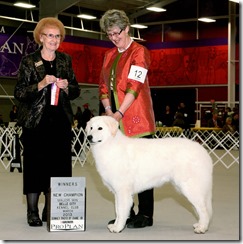 Congratulations to Barbara Tatay her owner and handler
for finishing this girl in style with 4 majors!
2013 the start of a good year
Thee weekends, three states, three owners and points all around.  Congratulations to our Szep Tars kids and their owners.
Szep Tars Rainmaker (Almos) goes Best of Winners his first weekend in the show ring.
Szep Tars Eros Teli Lelek (Eros) goes Best of Winners at the large Portland show for a Major.
Szep Tars Stradivarius takes Best of Winners for his first point in Missouri.
"Terra" x three
CH. Double Ring Force of Nature at Szep Tars, CA, NAP, NJP
Co-owned by Breeders Kathy & Chuck Ringering / also bred by Ashley Resner
Still needing a photo, but Terra's latest news is is qualifying in both the Novice Standard and Jumpers preferred Agility events in the same day both with perfect scores and a 1st & 2nd place.  Theses wins finished her NAP & NJP titles.  This girl just has too much fun in life.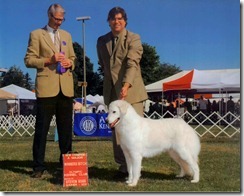 Her first time in the ring after almost a year since her last show and a litter of 9 puppies Terra came back with a BANG!  Saturday at the Olympic Kennel club shows Terra took a 5 point "major" win to finish her Championship.  Then on Sunday her first time out as a champion and handled by 12 year old Ashton Terra takes Best of Opposite sex.  Great wins with such a large entry and just 6 months off of puppies.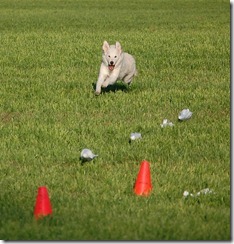 Terra makes history as the first Kuvasz to pass the AKC's new Lure Coursing test.  How much fun to see these guys get out and run.  Simply amazing.  We are really proud of our girl.  In order to earn this title Terra had to run the length of 6 football fields chasing the lure (plastic bags) on straightaways and around turns and make it to the finish line in under 2 minutes.  She had to do this 3 different times and she loved it every time.
"Tempo"
UKC CH. Szep Tars Push the Beat at Autumn Winds
Owned by Barbara Tatay
We're so proud of Barb and Tempo who are off to a great start.  Tempo took her fist points, a major at only 6 months.  Then at 7 months she went on to win a puppy working group 1st!  Then at 9 months she took her first Best of Breed!  She finished her UKC Championship in 2 weekends.  She continues to go to UKC shows for practice racking up the group placements and wins.  I think many good things are still to come for this girl.  We couldn't be more proud of Tempo and we are so grateful for the wonderful home and care Barb gives her.
2011 – The best show stopper:  Puppies
The beginning of 2011 finds us staying home from the shows to raise 2 litters of puppies.  We hope to see everyone out in the ring later this year when we'll starting bringing out the new kids as well as some of our adults.
"Piper"
GCH. Szep Tars Hearts Cry, RN, CGC
Piper went Best of Winners at the 2007 Kuvasz Club of America National Specialty show Weekend.  She finished her championship that year, and then she stayed home to continue growing up.
In 2009 Piper meet her new handler and co-owner and the two took off.  In just a few weekends of shows Cassidy and Piper work their way to the #12 spot for Kuvasz in Breed and All breed standings.  They also take their three wins in Jr. Showmanship to advance to the Open level competition.
Piper & Cassidy started off 2010 with a bang!  On Cassidy's 16th Birthday the team took a Group 4th placement over top working dogs.  Then it's off to Michigan for the Kuvasz National where Piper wins best female 3 out of the 5 days.  This summer Piper was again handled by her Breeder/Owner Matthew to finish off her Grand Championship.  She was only the third Kuvasz to earn the title and the first one to finish owner handled as well as the first Grand Champion Kuvasz with a performance title to earn the award.
"Flurry"
Am. GCH./Can. CH. Szep Tars Desert Freeze, CD, RA, CGC, TDI, CPA
2008 was very good to Flurry as he became the #1 Kuvasz Male in breed points and #3 Kuvasz overall in All breed points in just 7 weekends.    He took 3 group placements including Best of Breed and a Group 3rd National weekend.
In 2009 Flurry was only shown 1 weekend in Canada and 1 Weekend in the USA.  In that time he managed to become the #1 Kuvasz in Canada for 2009, and win Best Veteran in Sweepstakes at the 2009 Kuvasz Club of America National specialty.
At the age of 8 years old (2010) Flurry shows his stuff taking his 3rd qualifying score in the AKC companion dog class, earning the CD title.  And also qualifying him for the Kuvasz Club of America's Versatility Performance Award.  He is in such great shape and enjoys going with us so much we decided to try earning his Grand Championship.  After beating his daughter twice for Best of breed in 2 days including a major win, we decided as long as he keeps loving it, we'll go ahead and keep him out a little longer.  He ended up earning the seventh Grand Championship in the breed and the first one Breeder/Owner/Handled as well as the first with an obedience title. Not bad for almost 9 years old.  As a final hurrah we went down to the AKC invitational show where Flurry took and Award of Merit just 1 month before his 9th birthday.  He really showed his versatility by taking higher level titles in more venues than any other Kuvasz  in 2010.  I wish I could show this boy forever but I know even though he can still win, it's time for him to enjoy the simple comforts of home.